Posted on 2 Mar 2013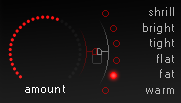 I've received a few questions how to operate the character and saturation mode switches.
The combined knobs are operated with left and right mouse buttons, just as in SoftAmp 3OD - hold the button, drag up or down. However with the mode LEDs it's obviously not intuitive enogh. Now on a second thought I agree that my concept was a sacrifice of usability in favour of a fancy design. In the next version I'm going to introduce a change to how this control operates. In addition to "rotating" the current mode, you'll be able to just directly click on the mode LED to switch to it.